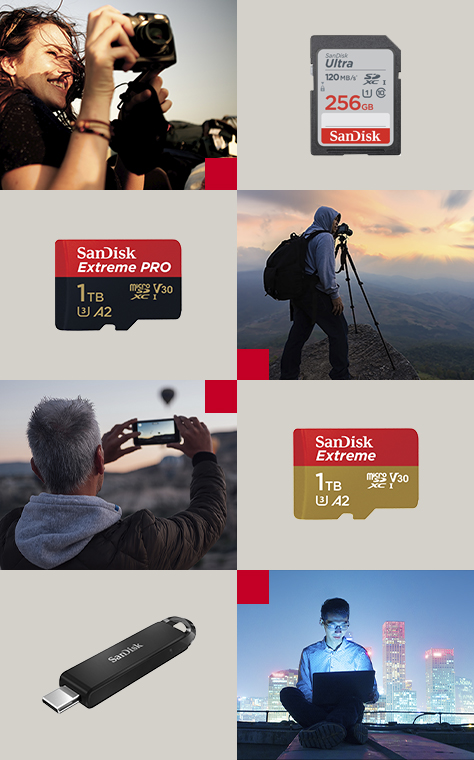 We shared our expertise to help SanDisk connect with a global audience
Share your world is the latest brand campaign from SanDisk, featuring an array of breath-taking images captured by photographers around the world. Using the brand campaign as inspiration, we were briefed to create a global toolkit of more audience-focused assets that would drive conversion at different touchpoints across the path to purchase.
Our focus was to bring the consumer closer to the sale, and to help shoppers find the right product for their needs as quickly and easily as possible. Shopper marketing techniques including eye-tracking data inspired our thinking and pinpointed what we should address at Point of Purchase and where, to drive maximum sales. 
To help us connect with our target audience, we used research from focus groups to highlight common pain points across the product line: everyday frustrations and hassles that people could identify with. We then created a suite of new assets that addressed each pain point, directing shoppers to the product that would solve the specific problem.
To further engage our audience, we put a spin on the Share your world creative. Rather than looking at the image that had been captured, we turned the viewpoint around to look at the person capturing it, transporting our audience to the very moment of creativity and inspiration.
The images we chose had the host device at the heart of the shot; a visual shortcut that will help shoppers identify the use case and navigate more quickly towards the right product for therm. Each image was backed by consideration copy (with a clear Unique Selling Point), and conversion copy, which included a direct Call to Action. This secondary copy was more descriptive and emotive – something we knew our audience would relate to, based on Nielsen research.
Throughout the entire creative process, we worked collaboratively with Channel Marketing and Digital teams around the network to ensure that all images and copy were suitable for local markets, and the different placements, approaches and use case scenarios were easy to use in-store for conversion activity.

Helped make the consumer path to purchase easier

Collaborative approach with international Channel Marketing & Digital teams

1 x streamlined creative global toolkit with local market insights
The result was a comprehensive toolkit of creative assets informed by research and fine-tuned with local market insights – all designed to perfectly mirror the style and premium feel of the Share your world brand campaign to ensure global synergy.
View some of our case studies
If you'd like to find out more about Digital Commerce and how we can help your brand make the most of the opportunities available, we'd love to hear from you. Drop us an email at
hello@wearesmp.com

or fill out the form below:
SMP,
WeWork,
Aldwych House,
71-91 Aldwych, London,
WC2B 4HN
United Kingdom

Tel: +44 (0)20 3923 4750

Office Hours:
9.00am to 5.30pm GMT